Wow! These have been a busy couple of weeks. Today its the 4th of July and its been a great weekend! I have been shooting a lot, and have been spending most of my free time editing. I shot a wedding last week, as well as another Boozy Floozy Burlesque show, so pics of those are coming, but today I am going to play catch up a bit and post some photos I took a few weeks ago along the Santa Ana River.
These were photographed for the "Drains To Ocean" Show at Nomadic Image, (www.nomadicimage.com)it will be opening in August. The entire collective that makes up Nomadic Image has documented practically the entire Santa Ana River, from Big Bear to the Beach. My section was from the Prado Dam South to Green River road. This was my 3rd time out there. The 1st time I tried to ride my bike along the trail, I ended up taking a wrong turn and the road down the wrong side of the river, I had to back track about 5 miles to find the right turn ... by this point I was over it for that day. 2nd time I tried hiking it from Gypsum Canyon Road ... we stated out too late and ran out of time, only making it to Green River .... 3rd times the charm, and we hiked down the south side of the river, which is the wrong side by the way. There is no established trail, and we were often times making our own trail. No, it was not easy, but we made it to the Dam! Then we climbed the dam, and victoriously overlooked the 91 freeway and the river. Here are a few pictures from our hike ...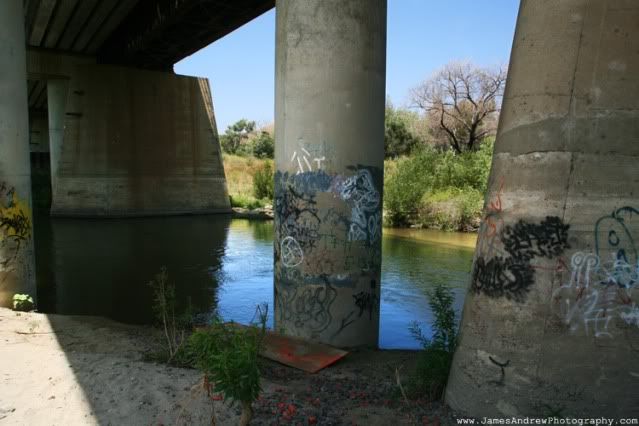 RR bridge in between a housing complex and golf course ... so far, we hadn't had to jump any fences and it had been an easy hike.
We hiked around the housing complex, there was no trail for a good chunk of it, which made things ... fun. Eventually we came out into a large field and walked the wrong way, figured out we walked the wrong way and after consulting gps we found a small trail that meandered back towards the river ... this trail turned out to be gold and it took us a good distance closer to the dam.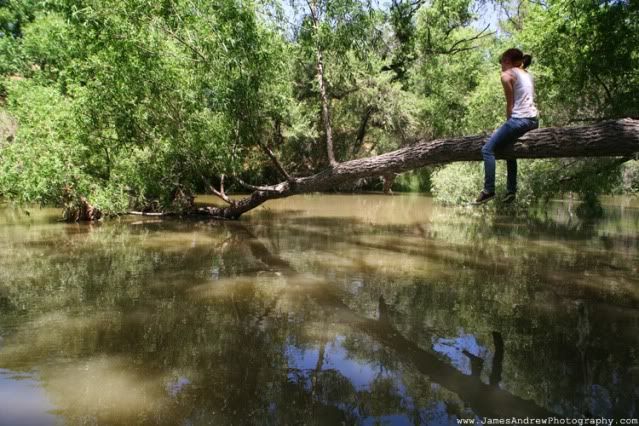 After following that for a while we ran out of trail, hiked back up the banks of the river to a large field, and trodded through the field, rattle snakes be damned.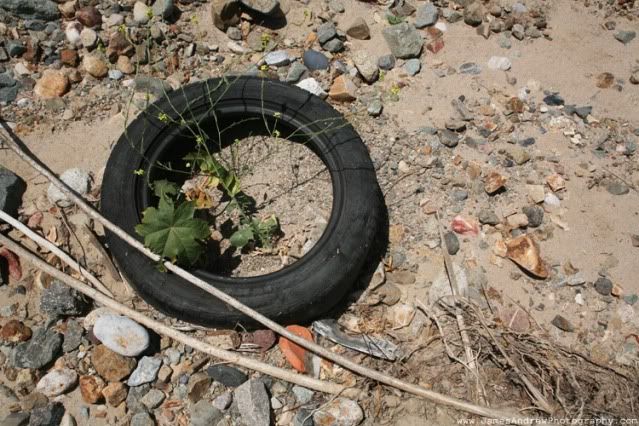 Almost victorious! We made it through the fields and the dryed river washes covered in garbage and made it to the Dam! Well, almost the dam.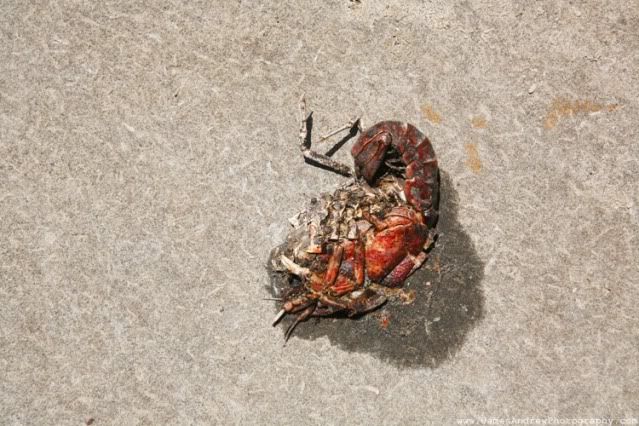 I named him Pedro.

Concrete is much easier to walk through than fields. A little bland though.

You know this place, you pass it every time you take the 91 to Corona.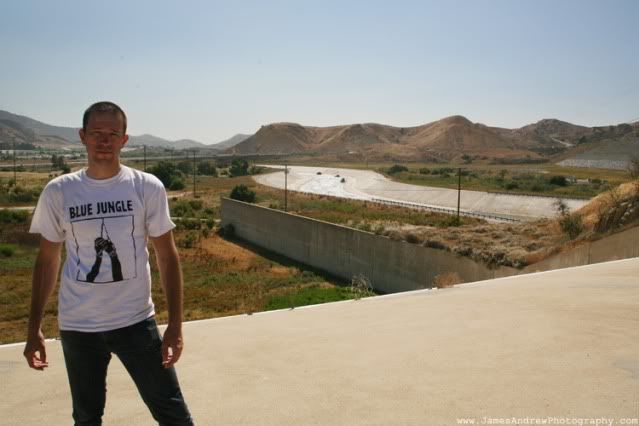 Victory!
The wind was ridiculous at the top of the spillway! We hung out here for a bit before trudging back to where we had come from. We hiked about 6 miles all together, really not so bad, but definitly a pain in the ass at times! Totally worth the sunburn I had on top of my head. You would think that I would have worn a hat ... naw.
Next up? I don't know! Maybe photos from Dva Dammas, Le Face, and Woah Hunx in Whittier ....