I am doing something a bit different with this post. Most of the photographs are going to be of trip to the venue, and then just a few from the venue ... its something I havn't properly documented before.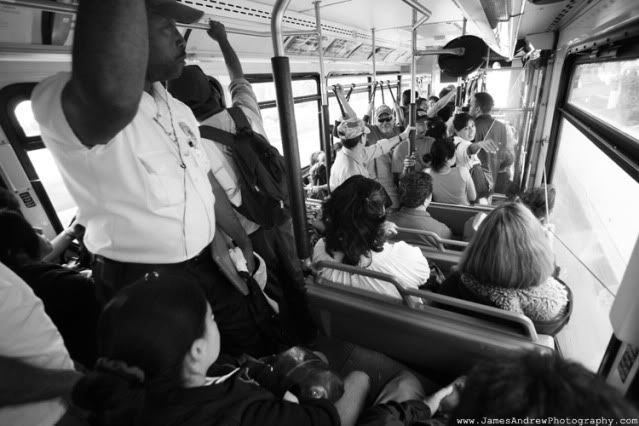 5:00pm
The journey always starts with my bicycle, I don't currently have my drivers license ... so this can make things adventurous. Especially when I go out to LA for shows. I try to be as self reliant as I can .. and this means public transit. The bus on this day was particularly annoying.
After the hour bus ride, I arrive at the Fullerton Trainstation, and wait patiently for the next train. Unfortunatly the next train is an Amtrak, and I don't take Amtrak. I wait a bit more for the Metro, and its off to LA ...
7:02pm
Metro is great, its fairly cheap, and hauls ass. You get to downtown from Fullerton in 45, I wish I lived closer to a train station. Its too bad the last train leaving LA is at like 8 ...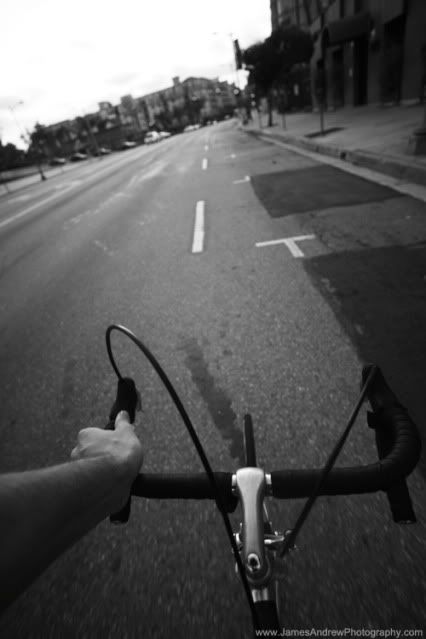 7:32pm
Once I am in LA ... ive got to get to the venue. Luckily, LA has the subways which work pretty damn well, and even luckier, most of the venues really are not far away, in most cases less than a five mile ride. No, taking photographs while riding your bicycle is not recomeded.
It was really a bitch to get in. Lately Ive been having problems with shows selling out. I really should have bought pre-sale, but I figured I wouldn't have to. Unfortunatly they almost sold out form pre-sale. I ended up in a line to get in, but I was only about 20 people back ... they finally started letting people in about nine ... just in time to have missed the 1st band, I heard they were good, so I was a bit bummed on that. Second was Indian Jewerly from Houston Texas ... their music was good, but holy crap their lead annoyed me "we are the best thing out there" "you need to listen to us and be ahead of the curve" blah blah blah ... even in jest this crap really annoys me, and the punk rock in me wanted to throw bottles, but instead I just yelled a few "go back to texas"'s and watched from the back. There music was still good, I would recomend stealing it. Best Coast played next, and aperantly Bethany had a couple of special brownies ... the set started off a little rocky, but she found her groove and the house was happy.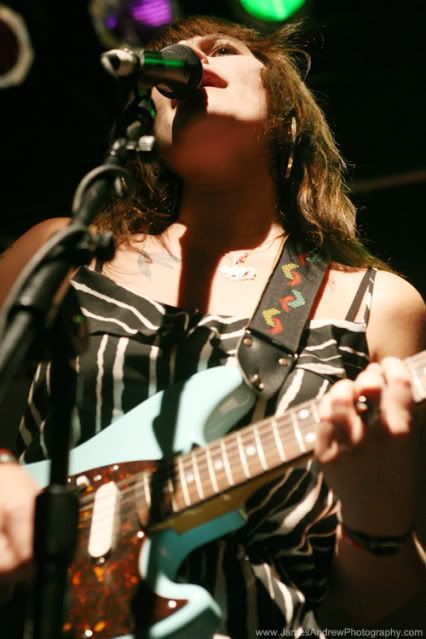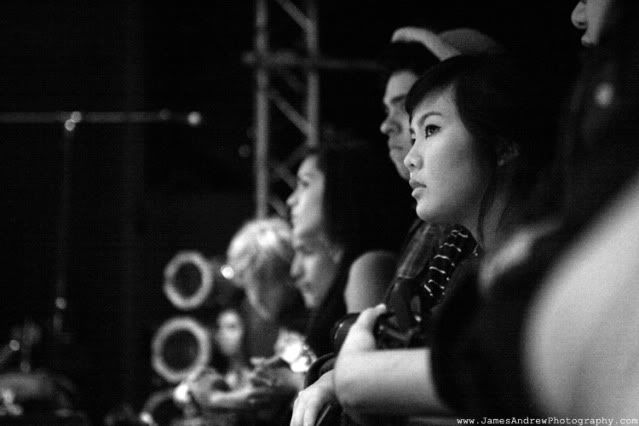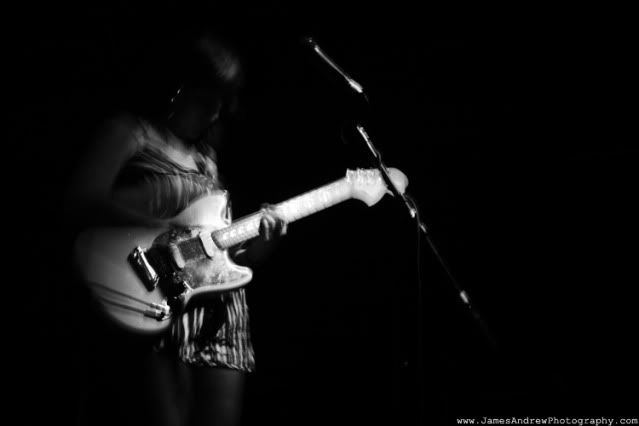 Photographing in places like this can get pretty boring, I mean, the audience is seperated form the crowd .. they have a lighting system that actually works ... you take 10 shots and its like ... cool, I have some decent shots ... now what? Lets do long exposures and prop myself against this wall!
Health played after Best Coast, and was pretty damn amazing. If you havn't seen them play, you really should. One of the best lives shows I have seen.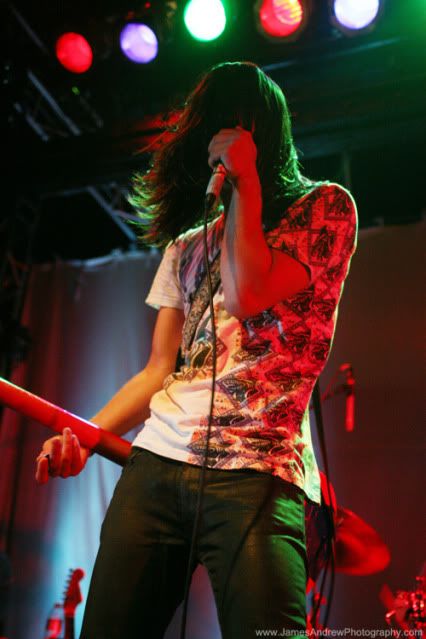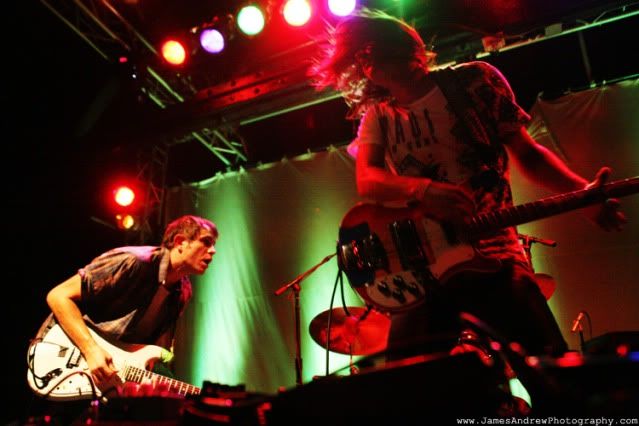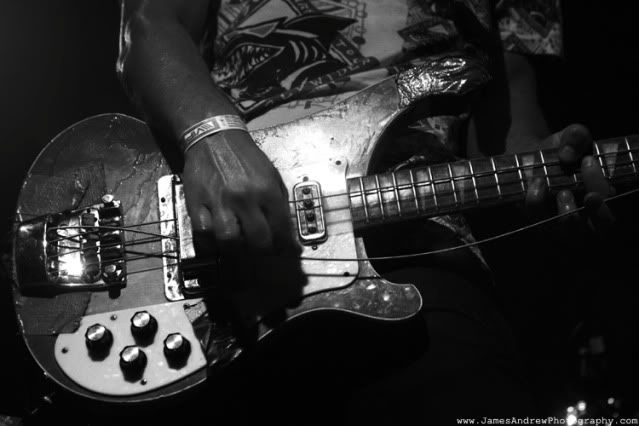 Broken Bass string and all.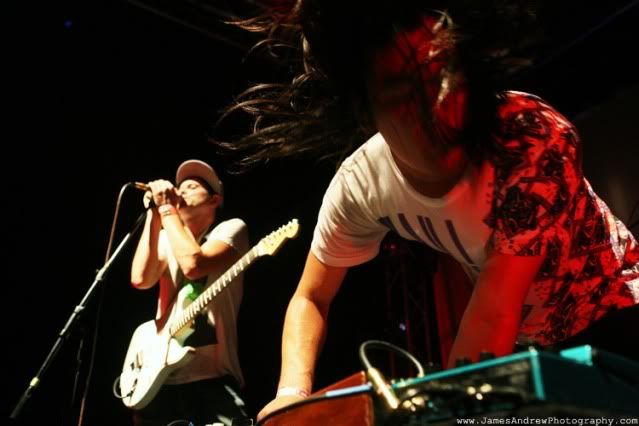 Alright! So Ive seen a few bands, stolen a beverage or two, wandered into the media pit pretending to be photographing for someone (there wasn't anyone there to check for the proper bracelets anyways) and the time was now ... just about midnight. The last Blue line train leaving downtown LA was in 45 minutes ... and I wanted to make the train BEFORE that one. Off I went.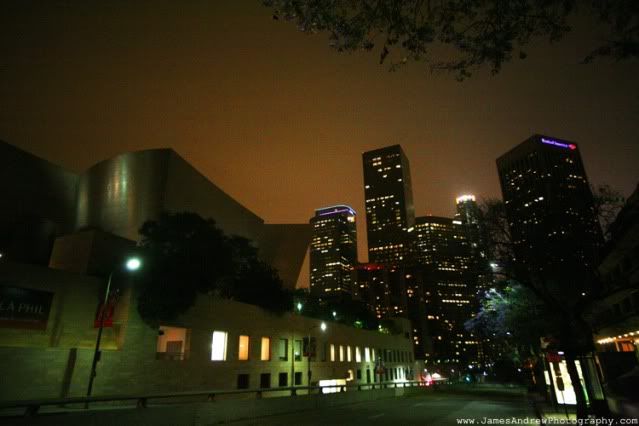 12:19am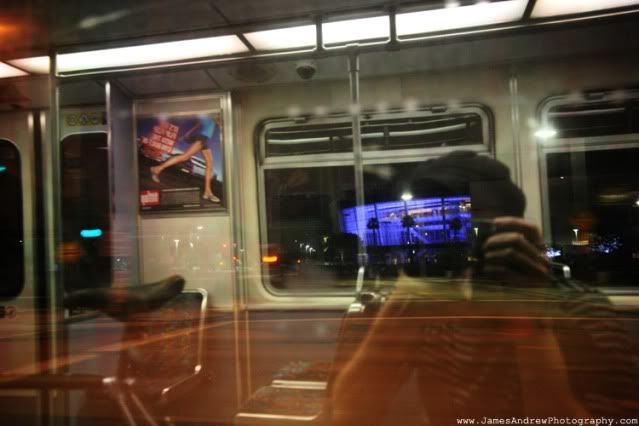 From downtown south through Huntington Park, Lynwood and Compton, onward through Paramount and finally Long Beach, I exit the train at PCH and ride my bicycle the rest of the way home at 1am. It took me over an hour this night.
The Long Beach / Orange County border looking back at LB.
I finally got home at about 2:00.