About a dozen individuals where waiting in Kevins front yard when I rode up on my bicycle. It was about 430pm on Saturday. I was a bit unsure why everyone was hanging out in the front yard ... just as I was walking up the driveway, Mary Bell happened to open the door and tell everyone to go into the backyard ... ok good ... so thats where I went. I ran into the Cezer, stole one of his Cezar Beers and hug out. More and more people meandered through the front door and slowly began to fill Kevins backyard, Kevins dad was running around, but there was no Kevin, and the rest of the Crystal Antlers where missing as well. A band from San Diego is present however, and right now, their name is missing from my mind! They where pretty good, they where playing an all day LA super tour .... 8 shows in one day ... Eff that! They brought a decent amount of people with them, set up, played, broke down, and ran away ... not so bad. I know a few people that saw them play at different parties all through out LA that day ... really cool idea.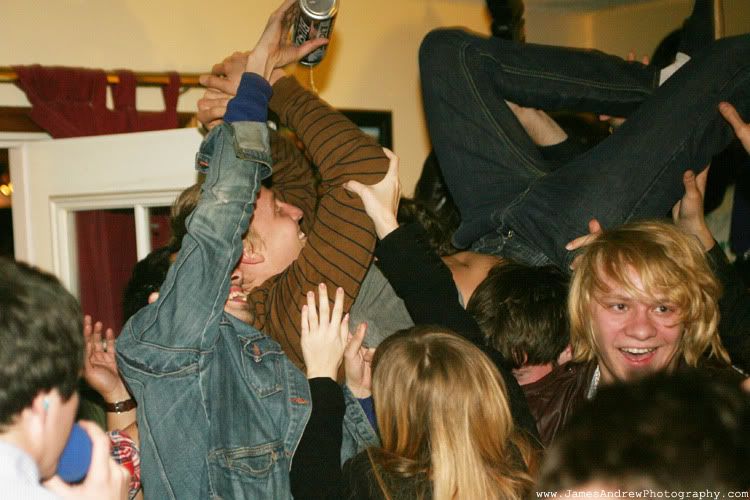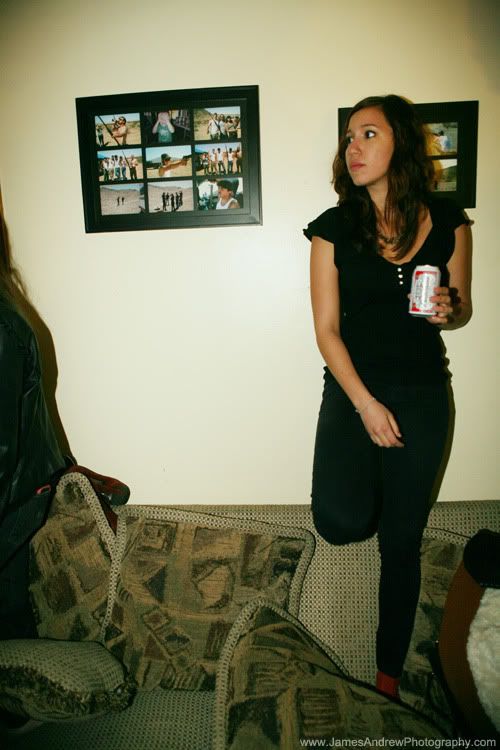 Unexpectadly, Audacity was the next band. I had no idea they where going to be there.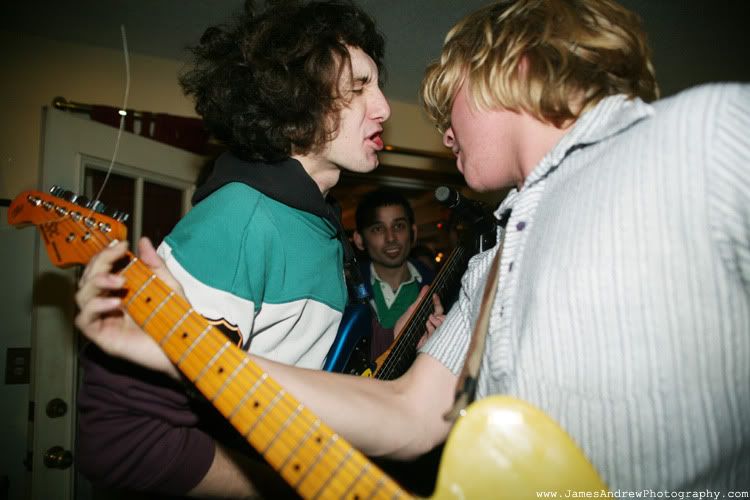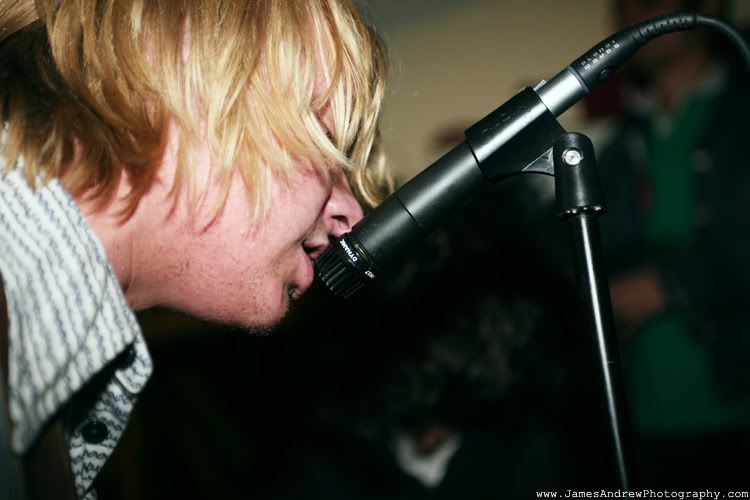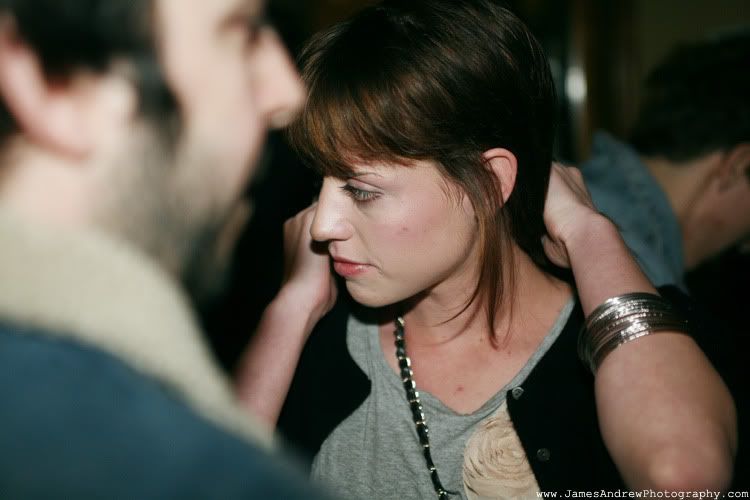 It was great to see them so randomly! The crowd squeezed together in the living room, jumping up and down to the music ... those that knew the words sung along ...
By now it was nearly 8 .. Kevin, Johnny, Damian and the rest of the Crystal Antlers had shown up and they where set up. They definitly played to a full house (pun intended?) as well as a full backyard ...
The show ended really early as far as house parties are concerned, Crystal Antlers where packing up to go play another show later on that evening at a grammys afterparty, pretty cool. A friend invited me to join her in a drive out to LA to another house show ... i thought to myself, sure why not ... we shot up the 605 freeway, got burritos from a hole in the wall mexican place in Rosemead and a case of Pabst Blue Ribbon ... we where set.
We got to this huge house in Rosemead around 9, and of all bands to be playing, it was a ska band! I was kind of excited. I hadnt seen a ska band in some time, and they where pretty decent. I would love to tell you their name, but I havnt a clue.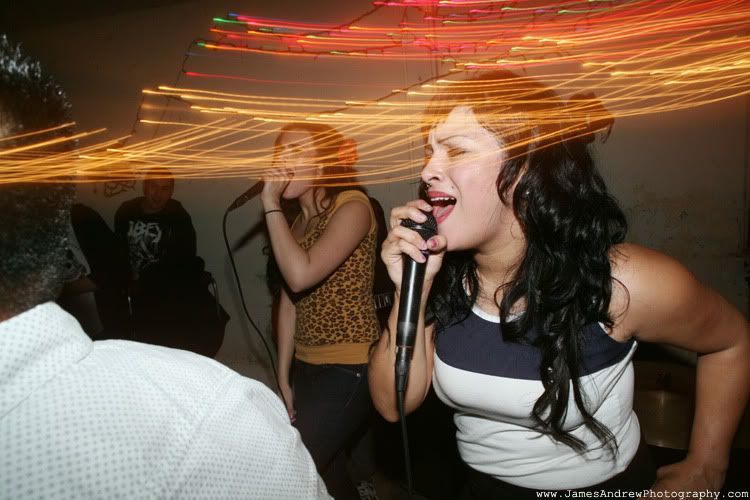 the house was huge, though the party was in the backyard and the bands played in the guest house ... which was really neat. I someone told me that no one was living at the house .. I have no idea if this was true ... and I would doubt it .. but its cool to think it was true.
I need a moment to refill my glass ... mmm Orange Juice and Vodka ...
Ok. What was I talking about? Oh yeah ... so other bands played too ... wow, is that lazy writing or what?
OK OK, AM was one of the bands ... and the other ... fuck. Ok. I blew this one, I never wrote down who the other bands where, and now its 2 weeks later and I have no idea. Oh well. Pictures!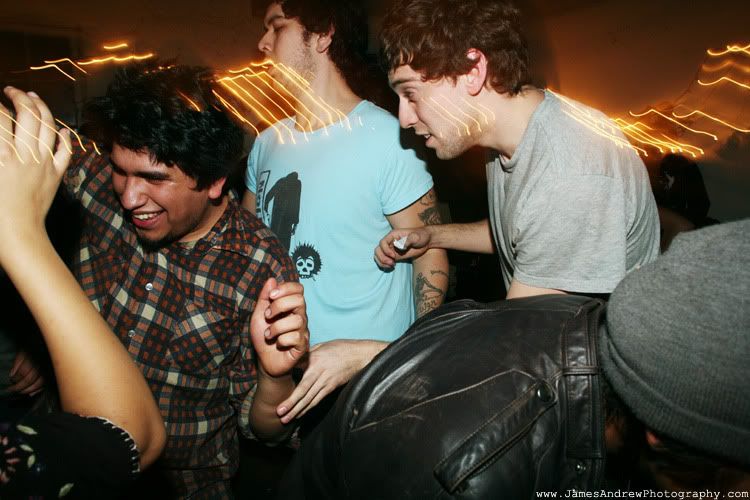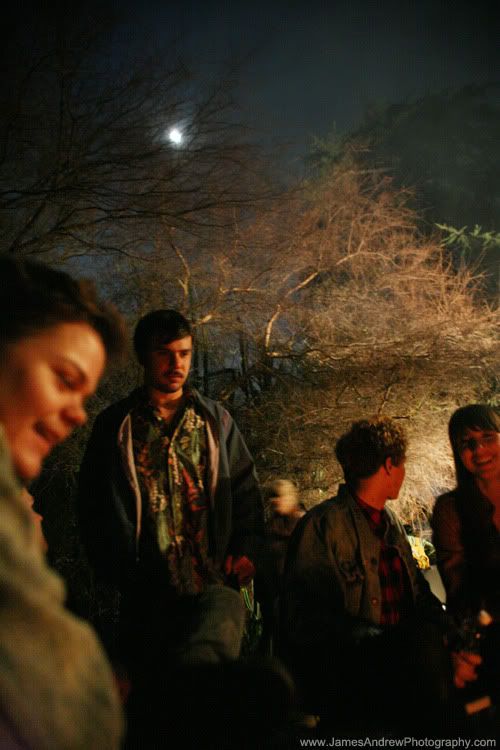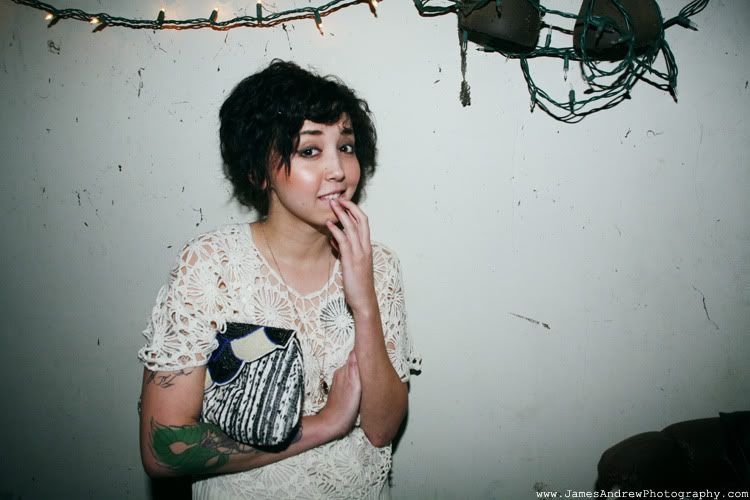 and well just end it with two pictures of Lynnsee.
By this time I was kinda drunk, and really freakin tired, and then Audacity went to play again ... which I was pretty happy about ... only to hae my camera die. I hadnt planned on shooting two shows this night ... I was thinking there would only be one ... and then ... even worse ... of my 5 batteries that I have, I left all of them at home ... talk about dropping the ball big time. I managed to get a couple of shots out of it, but really ... nothing. So Audacity played, and I had no choice but to put my camera away and have fun anyways, which was followed by going to sleep in Kassandras car.
Photographically ... I wasnt really happy with this night. It could have been a lot better. I wasnt really thinking about the photographs I was taking. Well, sometimes I was .. but often times it was just point and shoot. I wasnt paying enough attention to the images I should have been getting, + I didnt bring any extra batteries, and on top of that, I left the lense that I normally use for house shows at home!!!! Talk about shooting yourself in both feet! Owell, it happens though, you can never be happy with everything, and I still got a couple of shots that I am happy with ... just ... it could have been better. Next time ...
thanks for looking!