I wasn't sure if we were going to arrive on time, it was 9:30 and we were still driving on the 5 headed towards downtown Los Angeles. The Smell rarely starts a show before 9, so if we got there at 10, we would have missed the 1st one and a half bands, which I didn't mind so much. I forgot about something though, when its after 10, good luck finding street parking in downtown. Ooops. We drove down a few streets before giving up and forking over the eight dollars for parking. Theres a new yuppy club that opened up on 2nd and main ... I guess it gave the parking lots permission to raise the parking rates three bucks. Not cool. Its almost 10:30, and I am sure we've missed the first couple of bands, as we are walking in, I greet Deseret at the door, pay my five dollars twice, once for me, and once for JoV and in we go ... I recognize the sounds from the back of the building being one of the bands I came here to see.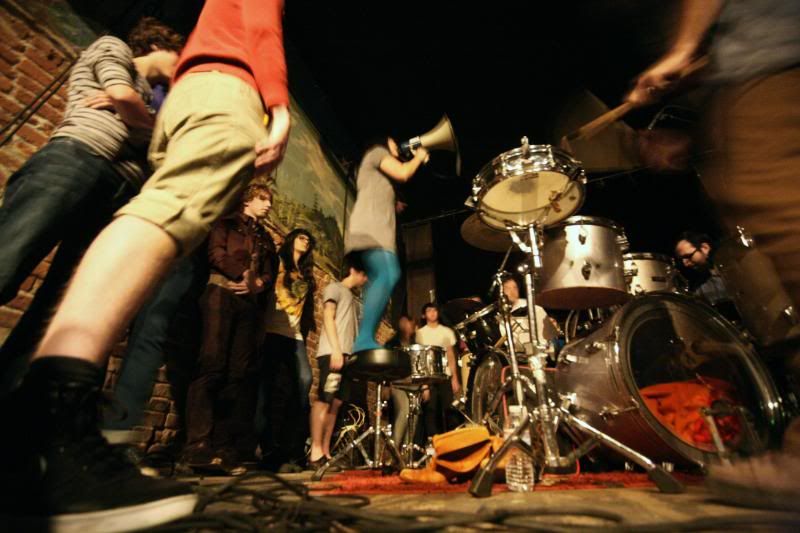 I couldn't be sure if Foot Village had just started, or were towards the end ...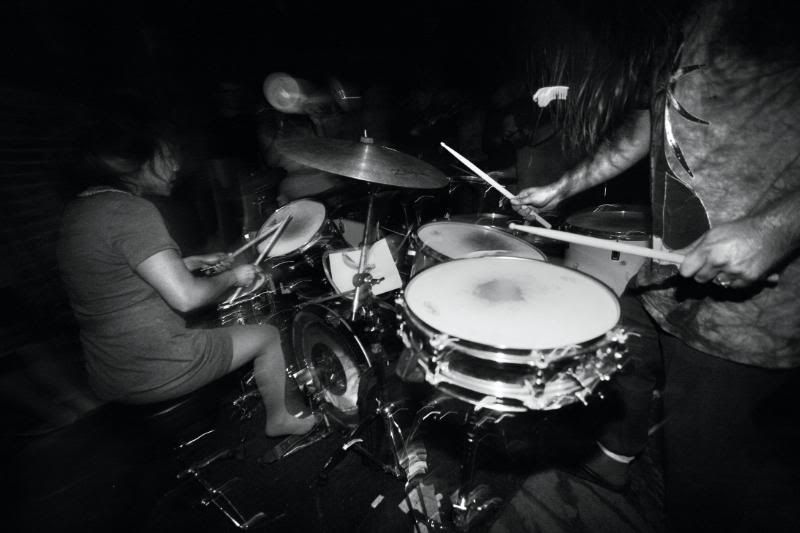 As luck would have it, they were somewhere about the middle of the set.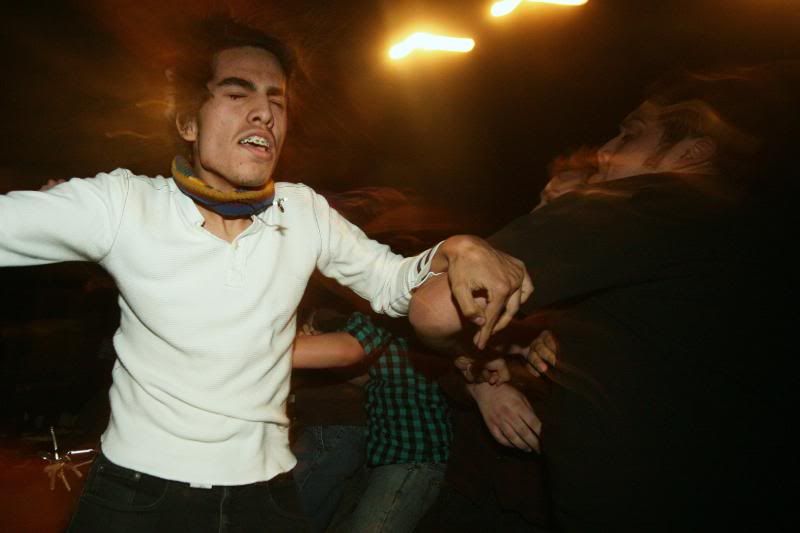 There was probably about fifty people inside the Smell watching when I got there. Foot village has four drummers, and a few of them take turns "singing" using either a megaphone or just yelling over the drums. They are one of my favorite bands to see play, the drumming is just ridiculous.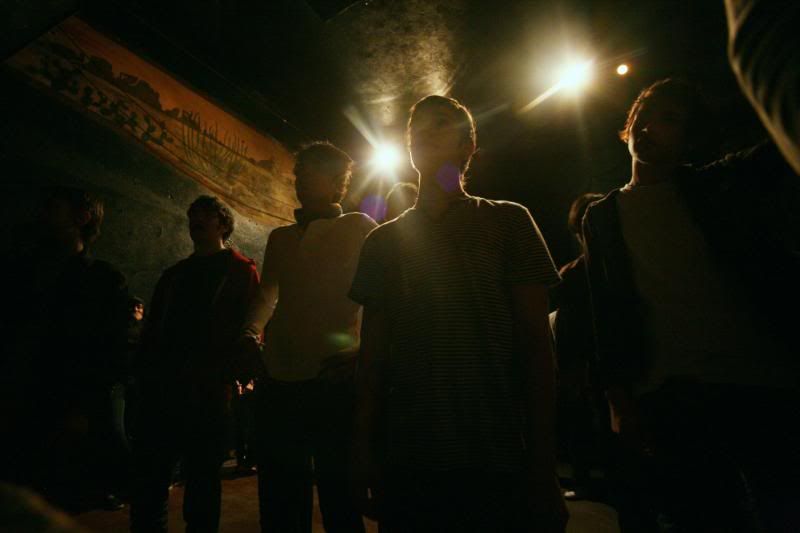 www.myspace.com/footvillage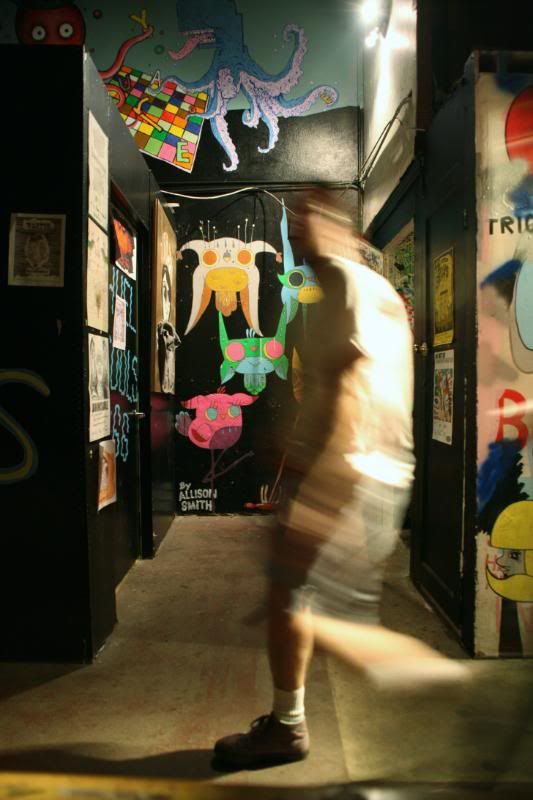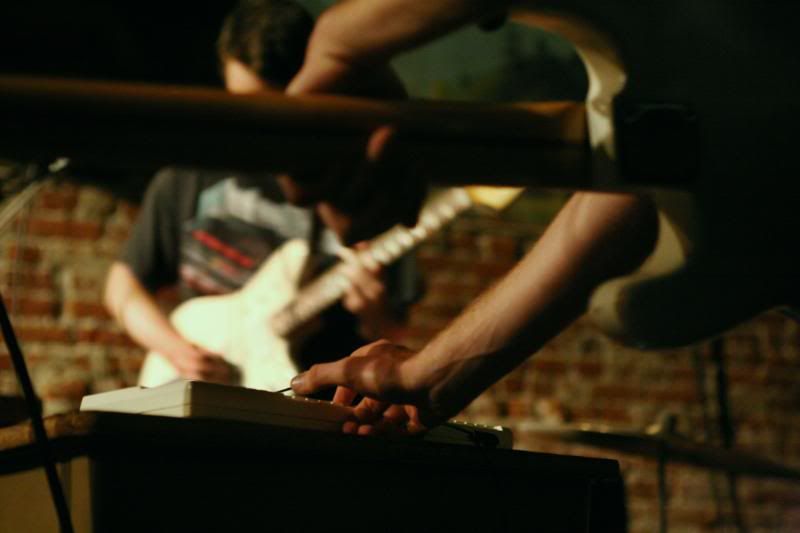 This band was from Oakland ... the name I just don't know ...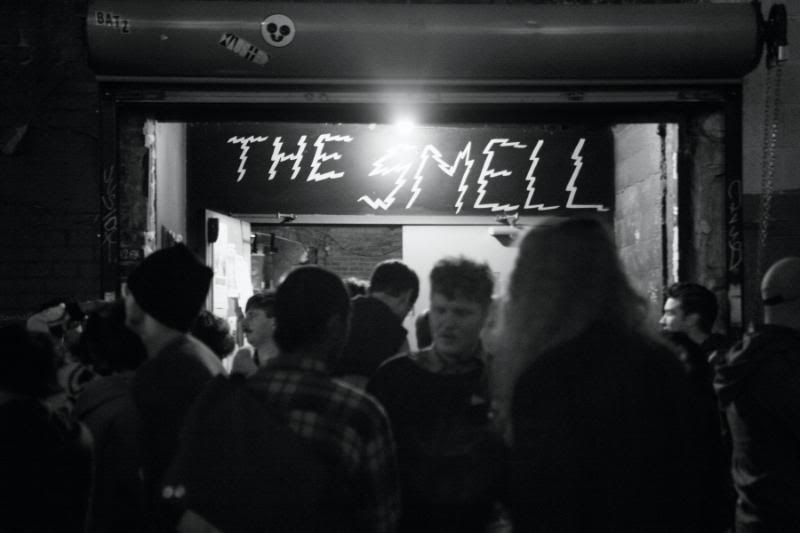 The back of the Smell which is really the front.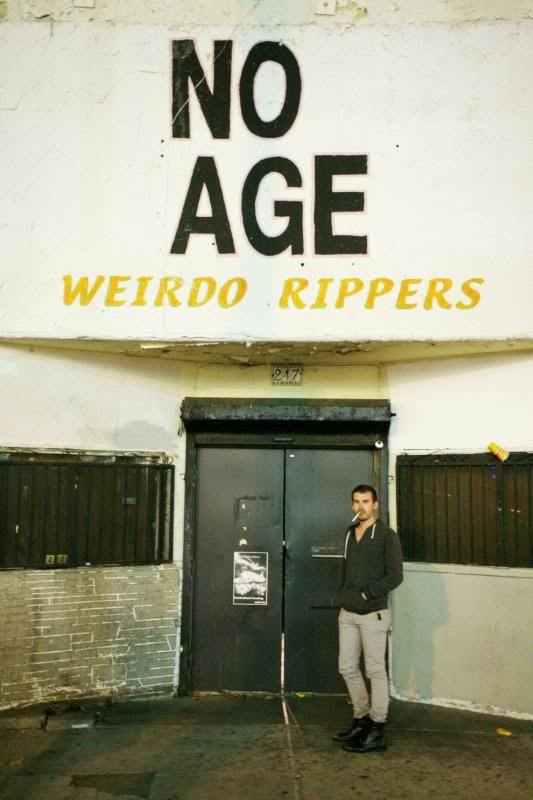 The front of the Smell which is really the back.
Dinowarlus from Brooklyn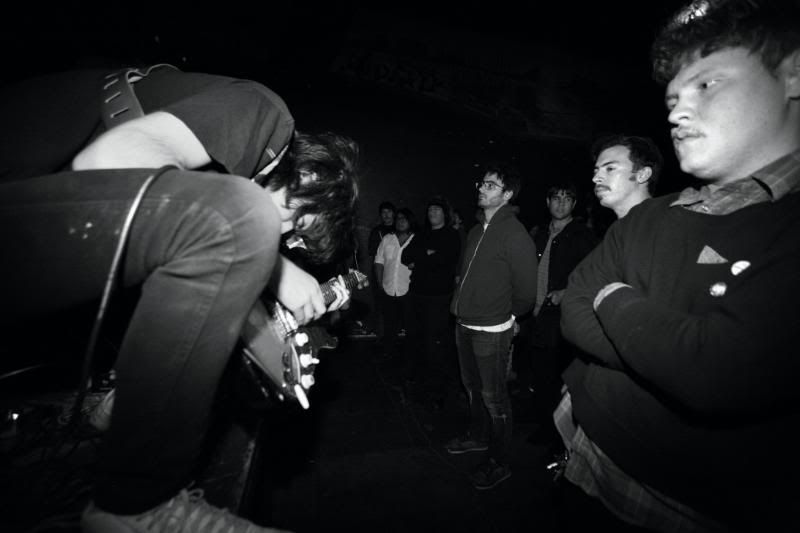 I actually really liked them. I wasn't sure going into it ... the name, the psychotically colored t-shirts and record album covers ... it just seemed like some massive ball of obnoxious that was going to annoy me.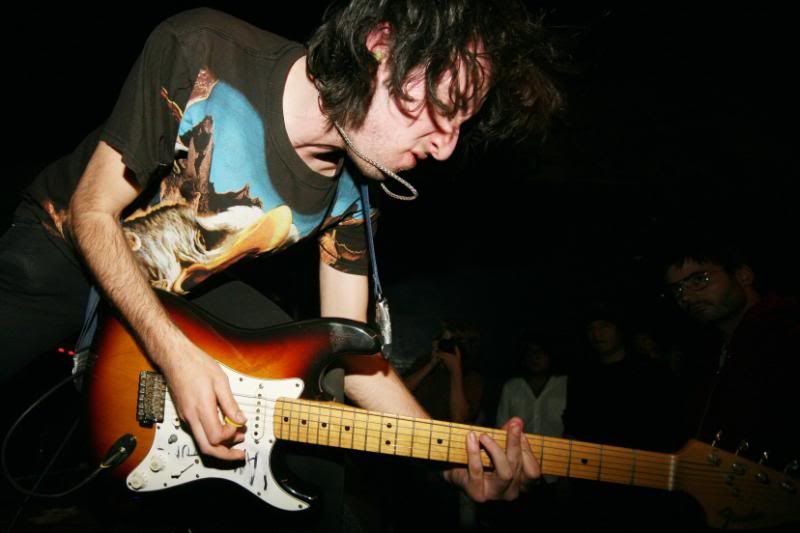 The music was actually really good. Of their demos online I feel like "electric Car" is the most representive of their live show.
www.myspace.com/Dinowalrus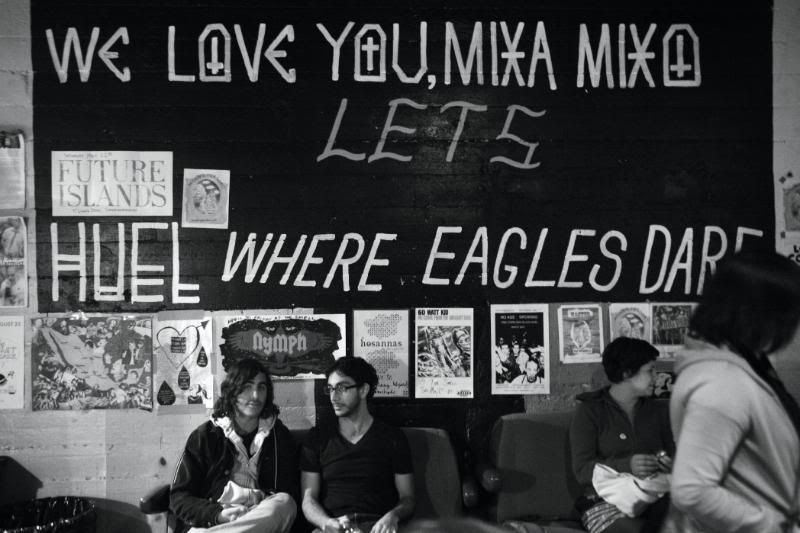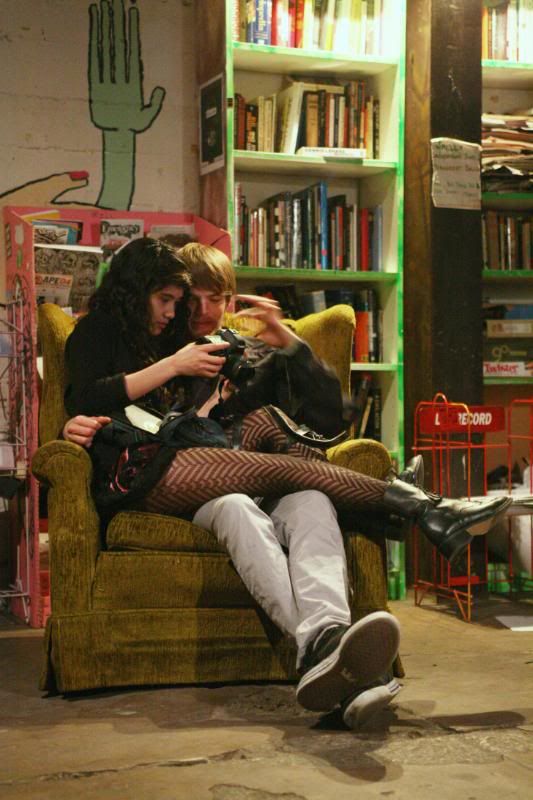 These two were funny, one is from Germany, the other is from Vietnam (?) they were just at a bar down the street, went for a walk, and happened upon music and ventured in. I am sure they are glad they did.
I mentioned earlier that I thought I was late getting into the show, which I was, I missed the 1st band, but as it turns out, aside from this being a great big run on sentance, that Foot Village was actually playing 2nd. They swapped with one of the touring bands for whatever reason. So the show was running late .. it was almost 1 now, and Signals went on ...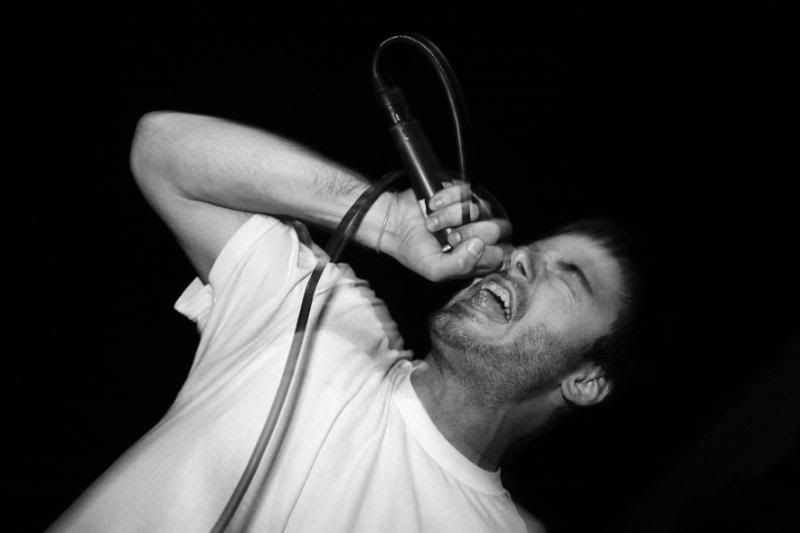 Signals are about half the members of the Mae Shi in a new band with just as much energy. www.myspace.com/signalsLA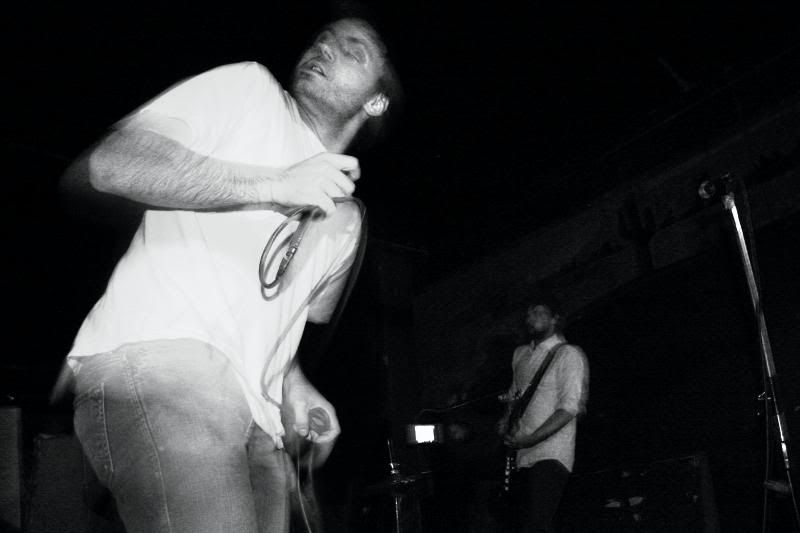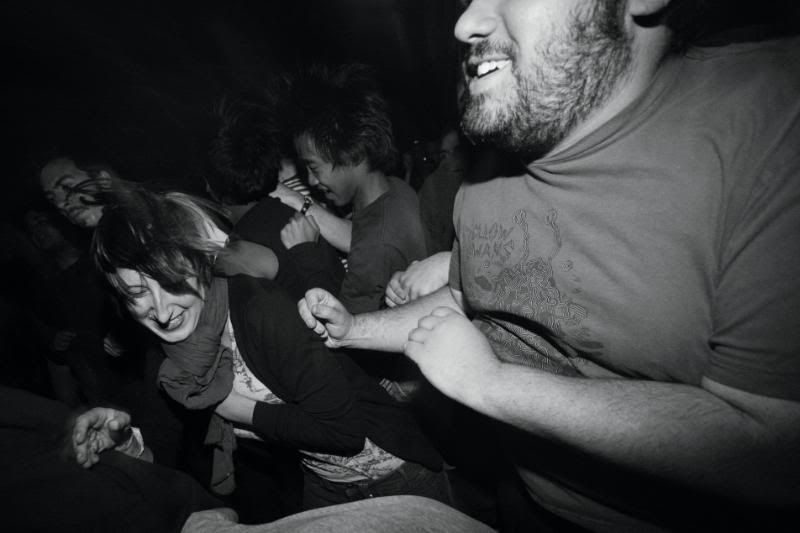 The show ended about 1:30 ... and I was ok with that. JoV and I hit the highway, Del Taco, and home.